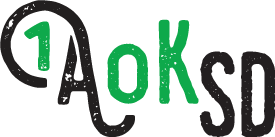 1AoKSD or "One Act of Kindness San Diego" is a Lucky Duck Foundation initiative, raising awareness and funds for San Diego County's homeless population, one day and one dollar at a time.
Leading San Diego in caring for its most vulnerable citizens
About the Lucky Duck Foundation
• Contributed $1.5 Million in 2017 to purchase bridge housing shelters for approximately 700 people
• Raised over 10 Million Dollars for charitable causes since 2005
• Has hosted nine annual Swing & Soiree fundraisers to benefit San Diego charities
• Supported by hundreds of donors, supporters, volunteers and friends
• Founded by San Diego philanthropists Pat & Stephanie Kilkenny
Why Help Now?
Homelessness is San Diego's number-one social service issue right now!
San Diego County's Homelessness Epidemic
More than 5,600 people living on the street unsheltered
9,160 homeless countywide, both sheltered and unsheltered
Including 1,600 members of homeless families with children
Homeless population in San Diego city and county is the fourth largest in the country
Hepatitis A Outbreak
The virus already killed 20 people in San Diego in 2017
More than 560 cases with more than 360 people hospitalized