Thank you, Gabby, for celebrating your birthday with San Diegans experiencing homelessness and for sharing your thoughts on why you started your own birthday fundraiser. Read more about Gabby, Lucky Duck Foundation Intern, at the conclusion of this post.
Ever since I was a little girl, I've been blessed with lavish birthday parties, trips, and gift from loved ones. And hey, there's nothing wrong with it. In fact, the gestures themselves are heartwarming. However, it never truly allowed me to celebrate my existence. As my birthdays began to drift away each year, as midnight approached, I always felt down in the dumps. And no, it wasn't because the party was over. It was because I always aspired for my birth to mean so much more. I would feel lifeless opening all these presents at the end of the night.
Sure, I got some pretty cool presents over the years. Yet, it was just an enhancement to my collection of "stuff". It was just an addition to my abundance of luck. Turning 21 this past New Year's Day was the first time I ever celebrated my birthday.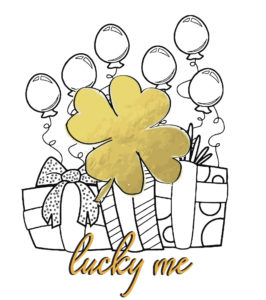 Some of you may be thinking wait what? Everyone celebrates their birthday every year. My answer is people think that they do, but they don't. The reason I actually celebrated my birthday this year is because I started a fundraiser for the Lucky Duck Foundation, in replacement of gifts. I will always remember the feeling of opening all the envelopes of money and checks that made my heart burst and fill up with almost too much excitement to handle. Finally, my birth actually meant something deeper than a new number to attach to myself. To say it was immensely fulfilling would be a definite understatement.
The truth is, an individual can never celebrate their existence without recognizing and fulfilling an authentic, genuine purpose. We were not put on this planet to do anything different than spreading goodness. In sum, during the time of the year when we are supposed to "make a wish", we have a moral duty to share our luck, especially since other people's wishes will never catch the chance of coming true.
While celebrating our birth is essential, celebrating our luck is even more meaningful. In other words, we must always celebrate our blessings in life by placing primary focus on how we can spread those blessings to others. Each and every year of our lives, many of us are blessed with the means and resources to flourish into our potential, while others are just simply not. I'll always feel nauseous witnessing the homeless lingering around the outskirts of my USD campus.
I think the hardest part is the vivid, apparent image of a human being struggling and then having to just go on with your day (as if that's the social norm). When we leave the sight of the homeless, we undeniably encounter loads of luck, while the underserved souls in our path acquire the extreme opposite, as if we are living in two parallel universes.
So, the next time someone asks what they should do for their birthday, remind them that a fundraiser is the best celebration they can have and show them how to start their own birthday fundraiser. My birthday fundraiser meant so much to me because it illustrated, after years of being fortunate, that I lucked out on a higher purpose. Lastly, I would like to extend my sincere gratitude to the Lucky Duck Foundation for serving as the organization that I am immensely proud to support. I couldn't think of a better way to honor my role, that I was designated at birth: cultivating the higher good through sharing my luck.
Start Your Own Birthday Fundraiser
Are you inspired by Gabby's dedication to sharing her luck? You can start your own birthday fundraiser by visiting our "Donate" page. And here's double the reason to celebrate with us – every dollar raised through birthday fundraisers (and any other type of fundraiser) are matched up to $1 million.
About Gabby
I am a Junior at the University of San Diego majoring in Business Administration, with minors in Sociology, Philosophy, and Nonprofit Social Enterprise Philanthropy. I have recently become the director of my family's charitable foundation, which has equipped me with a rewarding vehicle to accelerate my social change initiatives. During my freshman year of college at USD, I began my social justice efforts by researching San Diego's homeless epidemic and analyzing solutions.