Three shelter residents share their stories, hopes, and fears with writer Kelly Davis
By Kelly Davis | Photos by Sandy Huffaker
It's been roughly two years since the largest Hepatitis A outbreak in recent US history began. The virus swept through San Diego's homeless population, killing 20 people and sickening thousands. Hepatitis A thrives in unsanitary conditions, and the region's shortage of shelter beds—and 24-hour public restrooms—made homeless people particularly vulnerable.
Amid the outbreak, restaurateur Dan Shea and Padres managing partner Peter Seidler offered to buy the city two industrial-sized tents to help get people off the street. The tents opened in December 2017. One, operated by the nonprofit Alpha Project, houses 324 people each night. A second, run by Veterans Village of San Diego, provides 200 beds in the Midway District.
The city refers to these as "bridge" shelters, meaning they provide a link between living on the street and having stable housing. People with mental or physical disabilities are given priority, though beds are also available for people who need a few weeks or months to get back on their feet. Professional "housing navigators" work with shelter residents to help them find long-term options.
Amy Gonyeau, chief operating officer of Alpha Project, says that despite the challenge of getting residents into permanent housing, the immediate needs the shelters address can't be denied—namely a safe place to sleep for women, the elderly, and disabled people, who are often preyed upon when unsheltered. The tents also serve as an entry point to services for those who need help with addiction or mental illness.
"We've had over 35 other cities come to tour the East Village shelter, including Seattle, San Jose, Sacramento, and Los Angeles. They see this project as something they want to replicate in their cities. That alone says to us it's a great approach and having positive results."
In mid-October, writer Kelly Davis sat down with residents at the Alpha Project shelter. Here are three of their stories.

Hope Bermudez, 50
I've been homeless for 17, 18 years now—two years in San Diego. I was born and raised in New York, we went to Texas, and I became homeless. In Texas, I was beaten really, really bad and ended up on life support. I was really messed up. My son was stationed out here in the military, and he said, "Well, Mom, you want to come to San Diego?" So I came out here. But I had that homeless in me—to be out in the streets—and I left my son's house. Then I overdosed on heroin and I said, "That's it." I went to the methadone clinic and then went back home to my son. He retired from the Marines, and we went back to Texas.
I didn't feel right in Texas—it wasn't for me. So I decided to get on a Greyhound bus: one-way ticket $278, and $324.43 in my pocket. It was August 28, 2016. I felt there was more to offer for the homeless out here, and I was going to give myself exactly one year to get situated. But I landed back on drugs again and ended up in the hospital for three months with a bacterial infection in my spine. I almost died from that. So I pulled through and then I said, "That's it. I'm going to stop doing everything." One day the SDPD Homeless Outreach Team rolled up on me and they were like, "Hope, you want to go into the tent?" I got in the van and that was it. I've been with them since October 6, 2017.
I do a lot of stuff here—anything that staff needs. Residents always talk to me about problems they're having. Even the staff comes up to me if they can't find something, like if they don't know how to turn on the AC units. I know where everything is.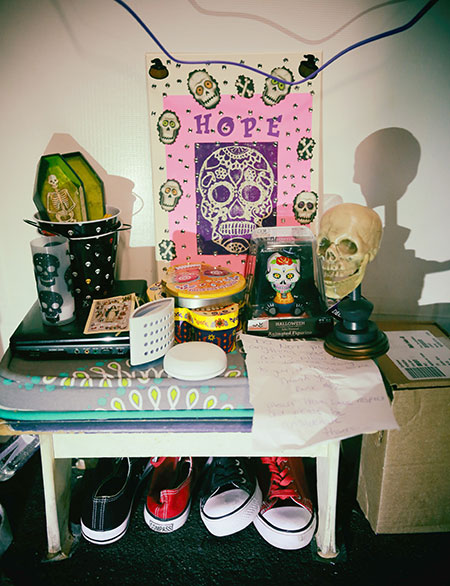 My bunk is my little sanctuary. Whenever I have problems, when the world's getting too heavy on my shoulders, I come in here and color. I've got my coloring books, my gel pens, paint crayons, and pencils, and I sit here and color.
I want to get my housing and go into Alpha Square. I want to do counseling for adolescents before they get to my point. And my Alpha Project case manager, CJ, said he could help me with that, with schooling and all that. He can help me get my foot in the door. I'm just sitting and waiting patiently for housing. Patience is a virtue. I'm in no rush. I've gotten into housing and screwed up and ended up back on the streets again. I don't plan on being one of the statistics. I want my kids to be proud of me.

Elaine Erickson, 53
I first came to the shelter in August. I had moved back to North Carolina, but my sons were still out here. My eldest son was telling me that he was staying at a shelter. When I first came here, I had a car. I was living in my car for a little while. But my car broke down—it's not drivable.
So the option I have now is, I can go back to North Carolina. It's just so much cheaper. My son who's in the shelter, so far he's doing really good here. There are people who don't get along, but so far I haven't had any problems here. I do want to be here with him so I can look over him. He's a grown person; I don't want to baby him too much. To me, it's a comfort to have him here.
He's 33. He's working on getting housing and I'm also making him work on getting a job. I actually have two sons who live in San Diego. My youngest son is living in his car, and he has a girlfriend who's living with him. They seem happy, but they can't afford the expense of getting an apartment.
When I first came to San Diego in 1986 I was able to get a housing voucher, but at that time they were just giving them away. Everyone had housing at that time. Then it stopped, and that's when all the shelters started coming up.
Sometimes I do miss back east, but this is a nice place to live as well. I love the sunshine here. My sons don't want to go back. I had a really good job in Raleigh for seven years. I was hoping they'd want to come back and live with me. But they love it here. If only rents would go down.

Scott Stephenson, 40
I'm from Chicago. I grew up in foster care. I was taken away from my parents when I was three years old because there was a death in the family. I went through a lot of abuse in foster homes.
I've been here since July. Before I got into the shelter, I was on the street for approximately three or four days. I had to chase down the Alpha Project outreach van to get in here. They stopped and I was like, "Hey, I need to get in there." Before that, I was at the Motel 6 off Second Street for 18 days, and before that, I was at the Volunteers of America, where I graduated from their 60-day rehab program. I ended up there because of the years of being bullied, sexual abuse, and wrong decisions.
I'm letting these things out. I'm talking with some people that will listen to me. Other people don't want to hear it. I'm doing it nonviolently; I'm doing it peacefully, protesting on my own behalf. We're working on the trauma.I've never learned who Scott is. I've always learned to fit in with other people because I've moved around so much. Always moved somewhere else. I pray that I do get another chance of having my own place. I would like a dog. I would like a backyard where I can have a barbecue or sit out there and have my little umbrella or whatever and be peaceful. I believe my life is the way it is now, with the security wall broken down on my part, because the only way to heal is to tear it down. I'm here to live a better productive life than I've been taught to live in the past.
Seven Ways to Help the Homeless Now
1. Attend an event
Father Joe's Villages is hosting a "Taste of the Village" March 21. Tour the East Village center, taste wine and Italian food, and learn more about their programs with speaker CEO Deacon Jim Vargas.
2. Join a coalition
Think Dignity is a nonprofit that works to advance basic dignity for San Diegans living on the streets. The Basic Dignity Coalition campaigns for concrete goals like public bathroom installation and meets the first Thursday of every month at Moniker Warehouse downtown.
3. Shop through Amazon Smile
Before the next time you hit Buy Now, log on to smile.amazon.com and select an organization like San Diego Rescue Mission or Feeding San Diego. Amazon donates half a percent of each purchase to your chosen charity.
4. Buy a winter care kit
One Act of Kindness is an initiative to distribute supplies to San Diego's homeless population. Starting at $25, you can provide one person with necessities like socks, a sweatshirt, and toothpaste.
5. Donate your time
Urban Angels serves dinner downtown at Connections Housing (daily, 5:30–7 p.m.) and The Salvation Army (Wednesdays, 5:30–7 p.m.). Bring your kids age 13 and up.
6. Support our veterans
Three thousand volunteers are needed for Veterans Village of San Diego's annual Stand Down event, an intervention program serving more than 800 homeless veterans and their families at San Diego High School, June 28–30.
7. Start your own donation drive
Organize your own drive for items that Alpha Project needs immediately, such as toiletries, pillows, socks, blankets, and bottled water. Or bring your own supply downtown to Alpha Square on 14th and Market streets, to the bridge shelter on Newton Avenue and 16th Street, or to Casa Raphael in Vista.
Article Source: San Diego Magazine