Thank you to our friends and collaborative partners, Helen Woodward Animal Center for sharing this story about homeless animals and available services with us. Names and details have been changed to protect privacy. Photos are only representations of the people and animals in the story.
In this second installment about Helen Woodward Animal Centers' Pets Without Walls program, a program staff member shares the story of Claire and Ebony. For many people, pets provide a purpose – and Claire and Ebony are no exception.
Meet Claire and Her Companion, Ebony
"I have shingles," she said as I reached out to shake her hand. "You shouldn't touch me." She looked down.
Then she reached into her baby stroller and drew out Ebony, her well-groomed bright-white toy poodle mix. Ebony licked Claire's arms and snuggled into her shoulder as Claire rummaged around in the crowded bottom compartment of her stroller – the part that seemed to contain her own belongings. It was a stark contrast to the Zen-like and uncluttered chamber that housed Ebony. Finally, she pulled out a weathered bag, carefully folded over and sealed with 6 perfectly aligned and spaced paper clips. She removed these with care and opened a second bag from within the first. It too was folded over and sealed with 6 perfectly aligned and spaced clips. It housed Ebony's meticulously folded medical records.

Essential Services for Homeless Animals
There they were, chronologically ordered and painstakingly cared for – all of Ebony's medical records since she was adopted from a shelter in Georgia 5 years ago. Georgia, Florida, South Carolina, and Pennsylvania – they were a well-traveled team indeed. Ebony snuggled into Claire, nuzzling her arm and neck lovingly. Claire brought each page out and read it carefully until she found the one with her plan. It had an invoice from a shelter in Florida with due dates of vaccines. Next to the prices that were printed on the invoice were slightly lower prices written in pencil. I imagined her calling around to compare prices.
She had circled the Rabies vaccine, the only one that was due now. "I have enough saved for the Rabies vaccine, but I can't afford an exam," she said nervously. She was hoping that no exam would be required to obtain Ebony's vaccine.
Claire didn't believe it at first when I told her the exam and vaccine would be free today. She could also have Ebony dewormed, and we could give her flea and tick prevention. As I looked through the medical records, I found that not a single vaccine had been missed in the 5 years that Claire and Ebony had been together.
"That one was late because I was in the hospital." Claire pointed to an entry on one of the vaccination pages, clearly concerned that I might be judging her harshly. "I got it the same week I got her back after I got out. They told me it would be ok. Is it ok that it was late? I tried to get it again since it was late, but they said I didn't need two to make up for it being late?"
I reassured her that Ebony was right on schedule. "Would you like some toothpaste for Ebony?" I asked. As I reached for a dental care kit, she pointed to her own toothless mouth. "I don't have any teeth, but I brush Ebony's teeth every single day. Do they look okay to you?"
Small dogs tend to have more severe dental disease than larger dogs, and it's very unusual to meet one Ebony's age with teeth as white and gums as healthy as hers were. I completed the rest of her exam remarking on her good health and perfect body condition. I gave her 2 months' worth of preventatives for fleas, ticks, and internal parasites.
Claire told me how much she appreciated the oral flea and tick preventative instead of the topical. "She snuggles with me and keeps me warm at night," she said. "That's good she won't be all oily."
As she put Ebony back into her stroller, she folded the papers (carefully repositioned in chronological order). She placed them into one plastic bag, then the other, perfectly replacing each of the 12 clips. Next, she drew out an old worn toothbrush and walked to the trash to throw it away. She carefully unwrapped Ebony's new toothbrush and replaced the old one in the dog's organized care supplies – right between the canned food and the water bowl that sat in the part of the stroller where a young mother of different circumstance might place her latte and toddler snacks.

More than "Just" a Pet
Claire stared at the ground. "Sometimes I have trouble getting up in the morning," she said. "Some days I just don't want to do it anymore. But then Ebony gives me a lick or a nuzzle, and I remember that I do want to keep trying. So I do."
Tiny white Ebony, 6.4 pounds of fur and love and heart, working as well as any medicine to keep a beautiful, brave spirit waking up each day and trying again. Sweet little Ebony, rescued 5 years ago from a shelter in Georgia by Claire. Was that Claire different from the Claire I had the good fortune to meet today? I will never know.
But there was Ebony in Claire's arms, as they gave each other the physical affection and love that science has proven brings us health. Ebony gives Claire, every single day, the touch and love that Claire is afraid to get from a human being, afraid that she might make that person sick, but knowing that Ebony is safe from whatever sickness Claire may have. Ebony and Claire, each giving the other a reason to go on and someone to love.
Ebony's head stretched forward, protruding enthusiastically from her stroller like a hood ornament on a fancy car. She looked happy. For a moment, I could see the pride in Claire's eyes as I admired Ebony. "Thank you," Claire said. "I'll see you next month." Her head was down now, and her back turned to me, but she sounded happy.
I knew she had no scheduled treatments, but I confirmed that I was looking forward to seeing them both for another exam in a month. Having that appointment scheduled seemed important to both of them. And I do look forward to seeing her at the next Pets Without Walls.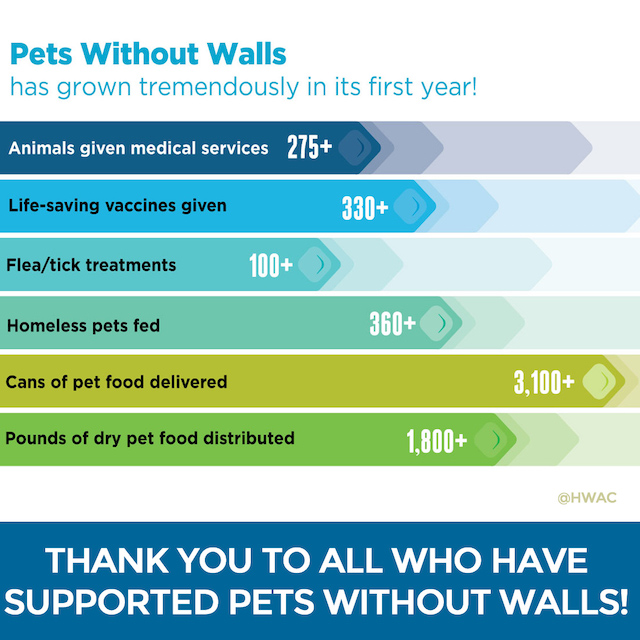 "People Helping Homeless Animals and Homeless Animals Helping People"
Helen Woodward Animal Center's Pets Without Walls program provides vital services for both homeless animals and people. This program wouldn't be "paw-sible" without support from people like you! In addition to sharing this program with your friends, consider donating to ensure Claire and Ebony have access to essential care. You can learn more about how the Lucky Duck Foundation supports this program and others like it by visiting www.luckyduckfoundation.org.