Kallie Purdue shared her luck completing a nonprofit internship for the Lucky Duck Foundation. She was born and raised in San Diego and felt a close connection to our mission. In the Fall, she will be entering her third year of college as a Media Communications major. Thank you for spending the summer and for sharing your experiences with us, Kallie!
Redefining Luck
I was ingrained to work hard, be patient, and strive to be the absolute best version of myself from a young age. Growing up, I was unbelievably fortunate to come from a supportive family that unconditionally shows their support and will continue to do so for the rest of my life. In addition, I was taught to believe in cause and effect, that hard work brings success, and that each opportunity I attain is a gift. Though all these lessons are incredibly true, there is one factor that can change everything – and that's luck.
Not everyone in the world is fortunate enough to have had good luck all their life. And that is the thing about homelessness, it's not always about habits or choices. It can simply be the unfortunate and unlucky cards an individual is dealt. Homelessness is not just about being without a home. It may be being without someone you can count on in times of crisis, being without the proper necessities due to failed services, or even being without a job due to the lack of programs willing to employ their own neighbors back into the workforce because of past personal issues.
Being lucky is not universal, and it's not a gift that everyone gets.
During my brief time interning at the Lucky Duck Foundation, I've learned how far someone sharing their luck can go. How much progressive change we can make if the luck is shared. Truly how important it is to value your luck, because just as Bret Harte says, "The only sure thing about luck is that it will change."

Perspective Changes Things
Throughout my internship with LDF, I have grown in many ways. So when I decided to partake in a nonprofit internship for an organization committed to fighting homelessness in San Diego, I really had no idea what to expect. I knew it would be a tremendous experience but never knew it could impact my life the way it has.
At the age of 19, it's very easy to get caught up in materialistic priorities. It's easy to look at your life and see all that you have and still want more. Look on social media and be envious of others for their "glamorous life." But being surrounded by people in my community who struggle daily to attain basic necessities has put my priorities in perspective. During my internship, I decided to remind myself not to take anything I have for granted. Not my bed, house, family, friends, education, food, the list goes on. We must make conscious decisions throughout our bad days. Days when you're feeling down or sad, to remember all that you have and how blessed you truly are. And how important it is to share your luck with those that don't have the same access and opportunity.

My Nonprofit Internship Experience
Throughout my internship, I met so many wonderful people committed to the Lucky Duck Foundation's mission. I had the opportunity to volunteer at the Food & Water Distribution Centers in Chula Vista and Downtown. Will Shea, the Program Manager for LDF in Chula Vista, is incredibly kind. He is clearly passionate about what he does and makes sure to welcome any new volunteers to the center each week. His relationships with each program is inspiring and so joyful!
I also had the pleasure to meet Judy and Brian, who serve in downtown Sa Diego dispersing pre-packaged meals directly to people in need as part of the Food & Water Distribution Outreach Program. Witnessing the relationships they build with the community is incredibly inspiring. They are down-to-earth people committed to helping those in need.
Every person LDF has connected me with has been so giving and empathetic; it's truly a wonderful organization to be a part of. Though my internship soon comes to a close, I will never forget the relationships, perspectives, and memories I have made.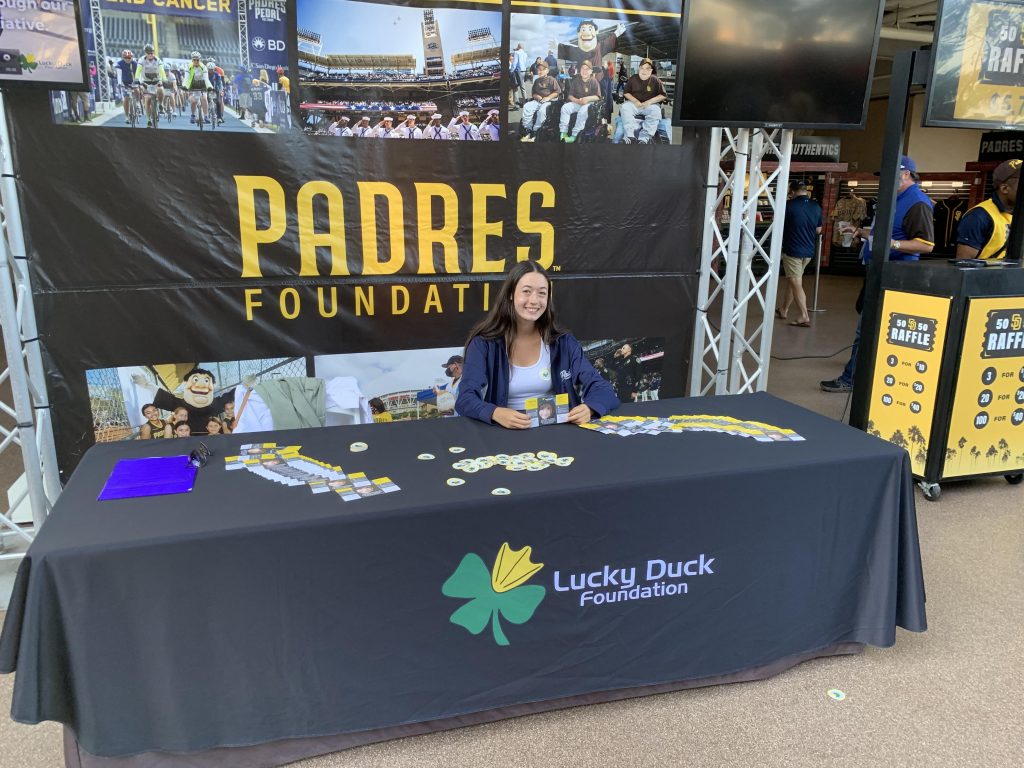 Can You Share Your Luck?
We've got volunteer opportunities available three times a week at our Food & Water Distribution centers. Sign up to volunteer and see if your perspective changes when you give your time to support people in need in your community.