Approximately 128 golfers and a total of 300 party goers gathered for the sold-out Lucky Foundation Swing & Soiree Presented by The Gall Hail Team of RBC Wealth Management October, 3 at the Santaluz Club. The event included a shotgun shamble golf tournament and an evening party with Azunia Tequila Blood Orange Margaritas, a tri-tip dinner and a live and silent auction. The event raised $1.3 million for charity, a record amount for the non-profit organization.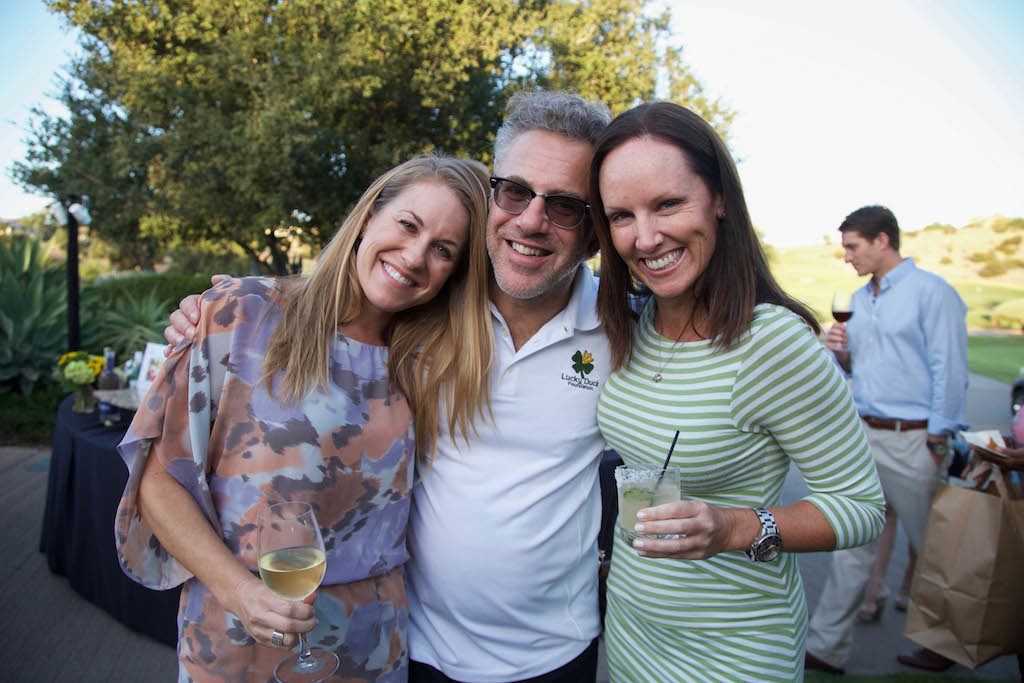 ESPN Sportscaster Neil Everett served as MC for the evening program that included a lively auction that raised over $200,000 and saw items like first class tickets to a destination of choice anywhere in the world go for over $20,000. Former Father Joe's Villages Resident Gerry Spears served as event auctioneer for the 7th year.
Lucky Duck Foundation co-founders, former University of Oregon Athletic Director and San Diego businessman Pat Kilkenny and his wife Stephanie, match every dollar raised at the event. The $1.3 million sum includes their matching gift and will be donated to the Lucky Duck Foundation's three beneficiaries, the Helen Woodward Animal Center, the Challenged Athletes Foundation and Father Joe's Villages, an organization that provides housing, medical care and job training for San Diego's homeless population. "Most of our budget comes from the private side and the Lucky Duck relationship provides funding for a number of our programs so I can't thank them enough for their generosity and support," said Father Joe's Villages Chief Executive Officer Deacon Jim F. Vargas.
Earlier this year the Lucky Duck Foundation donated $200,000 to the Fanconi Anemia Research Fund, an organization devoted to finding a cure for the rare blood disorder Fanconi Anemia. Since its founding, the Lucky Duck Foundation has raised nearly $7,300,000 for charity.
Other event sponsors included Aladdin Bail Bonds, Donovan's Steak and Chophouse, Align General, U.S. Bank, Panish Shea and Boyle LLP and K2 Insurance Services. Décor was provided by the flower delivery service Sun.Flowers and brightly colored floral arrangements were given away to guests upon departure.